AlterNation: Interview with Shannon Okey
If you're tired of ordinary mall fashions and want to express your sense of style with a one-of-a-kind wardrobe, Shannon Okey and Alexandra Underhill can show you how to customize your clothes and transform your world. As the authors of the recently released AlterNation, they guide readers through over 25 different projects while providing additional tips on how to design clothing and accessories that fit your personal sense of style.
Transform. Embellish. Customize.
For many crafters, the idea of handmade clothing invokes thoughts of misshapen garments with a less-than-attractive appearance. Luckily, since many of the projects in AlterNation start with items that are already sized to fit your body, you don't need to be a master seamstress to ensure that your finished creation will fit properly. When you're finished with this great book, you'll be ready to transform thrift store jackets, pants, shirts, and dresses into funky outfits that will earn you a new reputation as a fashion trendsetter. Of course, if you're feeling extremely ambitious, there's also a clever Bedhead Top and Asymetrical Sheet Skirt constructed from a pillowcase and flat sheet or a vibrantly colored skirt made from an assortment of men's ties.
Because every fashionista knows that no great outfit is complete without accessories, AlterNation also includes several ideas for adding the perfect finishing touch to your handmade altered outfits. Paint a fun design on an old pair of cowboy boots or whip up a fierce new handbag by combining ripped jeans with pretty cherry print fabric and a metal chain from your local hardware store. If you're a knitter, AlterNation recommends putting leftover yarn scraps to good use by making an eclectic-looking scarf from dissolvable interfacing.
"The concept behind AlterNation is literally in the title - we'd like to see everyone, coast to coast, daring to be different by revamping clothes in their own style," Shannon Okey and Alexandra Underhill write in the book's introduction. "No more cookie-cutter catalog dictators telling you what to wear. No more buying everything off the rack. No more spending two hundred dollars on a pair of the latest 'it' jeans when you can make sometime two hundred times cooler for five dollars and a little sewing time."
Interview with Shannon Okey
Recently, Shannon Okey took time out of her busy schedule to answer a few questions about designing your own altered fashions for the readers of LoveToKnow Crafts.
What inspired you to write AlterNation? What is your personal favorite project from the book?
My mother was a thrift store fan throughout my entire childhood. Heck, she still is. She tells me that she used to paint her clogs to match every day in art school (which is where she met my father), so I suppose I came to my thrift-fandom through immersion. Xan also has an art school background. There's that creating-something-from-nothing thrill to making garments of any kind, even more so when you're revamping something that seems hopelessly unhip. My favorite project in the book is the denim ballgown skirt, because I love denim, I love skirts, but I hate the tight, straight denim skirts you usually see. Of course, that answer may change by tomorrow! I like everything in the book.
For someone who has never tried altering clothing items before, what's the easiest way to begin this fun craft?
Before you even go to the thrift store, check your own closets! You'll be surprised what's buried there in the back, and you'll already have a sense of what needs to be done to them. Maybe a skirt's too long or too short? Or a sweater is a little bit felted? So find these pieces first, and use them for practice.
Do you have any helpful tips for crafters who want to experiment with making their own fashions, but have minimal sewing skills?
That's the great part about AlterNation -- you don't necessarily need advanced sewing skills (or sewing skills at all) for many of the projects! There are some fun "cheats" in the book, like using masking tape to hold something together while you stitch through multiple layers, because it will tear right off). Plus, sewing isn't something to be afraid of -- I co-own a fabric and fiber arts workshop/studio space where we teach people of all skill levels and ages. My shop partner's two stepsons are 9 and 12 and they can sew well! In fact, they got a sewing machine for Christmas this year.
When you're looking for something to alter at your local thrift store or consignment shop, what are some of the factors you consider before buying a piece to use in a project?
With a few exceptions (something you're using for fabric, or completely disassembling), the pieces should fit you, more or less. It's often not worth the hassle to entirely resize something you're using as a base piece. Also, many stains will not come out! So assess the piece based on how much work you may need to put into it before it's usable for a project.
When you're creating a new outfit from altered materials, how do you make sure it fits properly?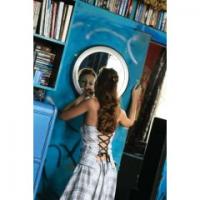 Try it on, try it on, try it on! And continue to try it on as you make changes. That's the nice part about beginning with some already-made pieces, it makes it even easier to try it on as you go.
Have you ever designed an outfit that was a good idea in theory, but not very flattering when you were finished? Do you have any tips for LoveToKnow Crafts readers who are looking to avoid their own fashion mishaps?
I have fallen victim to buying pieces that are too small with the thought that I would resize it in the finished piece more than once. This is why I've started taking my own advice above. You can overcome a lot of other things, from crazy fabric to texture to... well, you name it, so long as it fits well.
Do you have any other comments, suggestions, or ideas you wish to share with the readers of LoveToKnow Crafts?
Experiment! Even if you only try once, it's worth making some of your own clothes just to fully appreciate what goes into it.
Additional Resources
More LoveToKnow Fashion Tips
Visit LoveToKnow Teens for a complete selection of articles on teen fashion trends.
---
~ A review copy of AlterNation was provided by the publisher.